Finally, Xiaomi has unveiled their new MIUI which is basically a highly skinned android with many hefty features. This time in MIUI 10 it looks like the company have invested huge bets on AI and machine learning as in MIUI 10 we can see a lot of features based on it. So let us take a look at some of the major new features that we liked in MIUI 10.
1. INBUILT SCREEN RECORDING WITH SYSTEM SOUND:
We might have seen screen recording in almost all the phones in recent times but everyone had the problem of recording the original audio along with it in order to solve it finally the MIUI has brought in this feature which might be a lot helpful for all those crazy Whatsapp status and Insta story fans out there.
2. NEW NAVIGATION METHOD:
In order to help the users get a lot out of their screen this time MIUI has been inspired by lots of other brands like Apple and One plus and have introduced a navigation system which is kind of similar to them but the new thing is you can even switch to a recent app by pulling and holding it from left side of your screen.
3. NEW CAMERA INTERFACE WITH AI:
Now MIUI 10 comes with the camera software with AI built into it which will be helpful for scene detection and calibrating the camera according to it and even they are using their camera for edge detection so you can get the bokeh images for both the front and the rear camera.
4.NEW USER INTERFACE:
MIUI 10 has redesigned the layout of the notification panel they have changed the design to a flat style which looks like it is highly inspired by the stock Android and even the settings layout is changed where all the app management are grouped together and now you can manage all the activities related to the app from single place and there is also a feature called group uninstall where you can uninstall two or more apps at single instance. Another new change is the recently used apps where before if you press the multitasking button you can look up tiles arranged one near the other but now the whole layout has changed where the whole screen is used to display all the apps running in the background and their tiles are arranged side by side.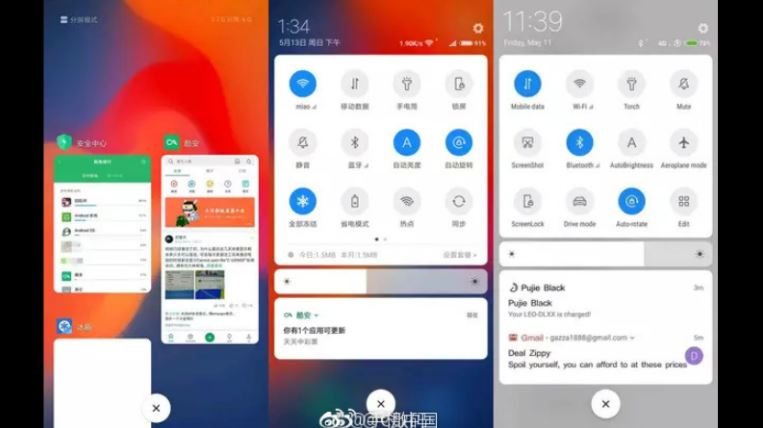 5.PICTURE IN PICTURE MODE:
Though it wasn't introduced in MIUI 9 now they have come out with this very new helpful feature from Android Oreo where you can watch YouTube videos outside the app too with a small window on your home screen or any other apps which is a very useful feature.
6.VOLUME CONTROLS:
This is again a very very useful feature that is going to arrive with Android P. Whenever you press your volume button now it can be used to directly control the Media Volume rather the other volumes like calls which were the default in the previous generations and now the volume control panel will also be displayed near to your volume buttons so it might be handier in day to day life.
Other than this there are also many other features which are directly inspired by Google product lineup like the Google keep and Google lens and there is also a feature where it uses the AI and machine learning to group up and categorizes the photos.
Currently, they have released the beta version of the MIUI 10 and soon the complete version will be rolled out to their devices.
This is the list of devices that might get the MIUI 10
Xiaomi Mi 6X

Xiaomi Mi 6

Xiaomi Mi 5

Xiaomi Mi 5S

Xiaomi Mi 5S Plus

Xiaomi 5X

Xiaomi Mi 4

Xiaomi Mi 4C

Xiaomi Mi 4i

Xiaomi Mi Max

Xiaomi Mi Max 2

Xiaomi Mi Mix

Xiaomi Mi Mix 2

Xiaomi Mi Note

Xiaomi Mi Note Pro

Xiaomi Mi Note 2

Xiaomi Mi Note 3

Xiaomi Redmi 4

Xiaomi Redmi 5

Xiaomi Redmi 5 Plus

Xiaomi Redmi Y1

Xiaomi Redmi Y1 Lite
These are some of the devices that are to be expected to get the version of MIUI 10.